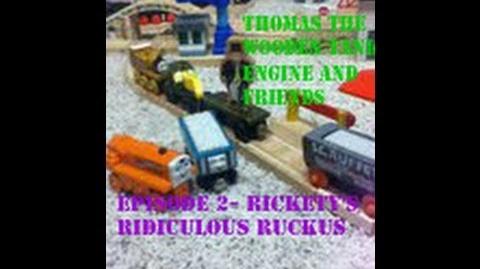 Rickety's Ridiculous Ruckus is the second episode of the first season. It was written by MrMPS2002 and HenryisGreat15.
One day, the trucks in the yard are bickering about Rickety, and his plans with the trucks, after Scruffy put him in charge due to his accident. Rickety objects, stating that Scruffy put him in charge and that is that.
Meanwhile, at Tidmouth Sheds, Gordon and Henry are arguing with James over the accident with Scruffy, which the red engine had caused. They state that James is a disgrace to the big engines, but even with James' replies, he is shut up by Gordon and Henry. Percy listens to their conversation and is worried about the train of trucks he has to take. He sets off to pick up the trucks, finding the all the trucks silent, except Rickety.
Rickety demands to know who the engine behind him is, before Fred answers, saying it's Percy. Rickety, being self-obsessed, says that he is the leader of the trucks, and Scruffy is not needed, much to the anger of the trucks. Percy, shunts the trucks into a line, and sets off for Vicarstown. More to be added later...
Enterprisingengine93 as Rickety
Doubtfire5599 as S.C. Ruffy
LNERFlyingScotsman as Percy
jlouvier as Sir Topham Hatt
WoodenRailwayReviews as James
HenryisGreat15 as Henry
TheBluebellEngine as Gordon
TheHaza47 as a Troublesome Truck
MrMPS2002 as Narrator and numerous other characters
Thomas, Boco, Hector, Skarloey, Henrietta, Jack, Emily, Bill, Ben, George, Spencer, Den, Dart, Splatter, Dodge, Diesel 261, Diesel 199, Diesel 10, Norman, Max, Byron, Alfie, Terence, Whiff, Patrick, Diesel, Stepney, Fergus, Belle, Flynn, Oliver, Madge, Billy, Butch, and Stanley also appear in this episode. However, they are not voiced by anyone and either make cameo's and/or don't speak.
The title of the episode was suggested by 3HenrytheGreenEngine.
The video is dedicated to jlouvier.
Ad blocker interference detected!
Wikia is a free-to-use site that makes money from advertising. We have a modified experience for viewers using ad blockers

Wikia is not accessible if you've made further modifications. Remove the custom ad blocker rule(s) and the page will load as expected.